Free
app
aims
to
engage
secondary
school
students
in
the
election
Press release (27th April 2015) Education technology company Reflective Thinking has teamed up with academics at Newcastle University to engage KS3 (11-14 year olds) in the general election.
The free iPad app 'Digital Mysteries: UK Election 2015', aims to involve young people in politics early on by showing how it is relevant to them.
An official survey by the Office for National Statistics (ONS) in 2014 stated that 42.4% of those asked in the 16-24 age group said they have no interest in politics. With this in mind, it is apparent that work must begin well before voting age.
Professor Patrick Olivier of Newcastle University said: "As part of the Digital Civics initiative, we wanted to help get young people more interested in politics and the UK 2015 general election. Digital Mysteries, originating from research at the university, seemed the right way to get the type of thoughtful engagement we are hoping for. The customised app addresses the election through an engaging story combined with exciting technology."
Students are introduced to Grace, an 18 year old facing her first chance to vote, and asked 'Where should Grace put her cross on May 7th?' There are 25 slips of illustrated information which detail her background, family life and interests. The app is designed to encourage discussion, so it can be used in pairs or small groups. While the task does provide short snippets on each party, through 'word of mouth' statements of family and friends, the idea is that there is no one right answer.
Dr. Ahmed Kharrufa, Director of Reflective Thinking and Research Associate at Newcastle University, said: "With so much coverage and focus on the election right now, it may be that young people are aware of 'an election' going on, but many cannot see how it affects them. The open ended nature of Digital Mysteries makes it a well-suited tool for discussing politics."
While there are some great apps and initiatives available designed to engage those of voting age, for 11-14 year olds, it is limited. Professor of Curriculum Innovation, David Leat, who wrote the app's story, said: "Generally, older people vote, and if young people don't, they are much more likely to be ignored by politicians and lose out. It is hoped that many will be interested enough to do some research of their own too."
Although the target audience cannot vote right now, creators of the app aim to have an impact in two ways. With it specifically designed to encourage discussion, it will help begin chats about politics and the election with pupils, their friends, teachers and parents. In addition, getting those in school engaged now means they will be more likely to get involved in 2020.
Peter Davies, Humanities teacher at Greenfield Community College said: "As we approach the most important election in a generation, it is more essential than ever to get young people engaged in the political process and the future of our country. As a school we are running a topical scheme of work through our 'time for success' on politics and the election. When we were told about the app, it seemed the ideal task to support this. Students can engage in their own time - as a homework task - or work through the mystery in lessons."
The app is available to download free onto iPads now, just click here or search 'election mystery' on the App Store.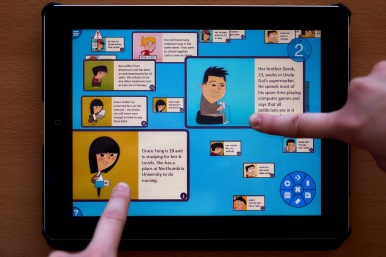 Notes to editors: