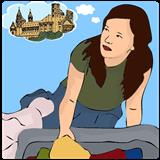 Santiago de Compostela

Subject: RE, Spanish, Geography
Topic: pilgrimage, journey, holiday, Spain, Spanish, religion, Christianity, St James, Catholic
Audience: KS2
Question: Why did Sarah visit Santiago de Compostela?
Author: Gavin Johnston




Description
This is a mystery about 'Sarah' who is making a trip to Santiago de Compostela in the North of Spain. In this mystery, children will learn about possible reasons for Sarah's visit; making reference to the famous Catholic pilgrimage to Santiago de Compostela across the North of Spain. Some background to Sarah is given including her love of travelling with friends; desire to visit different parts of Spain; her penfriend who lives in Santiago de Compostela and her Catholic faith.
There are three difficulty levels to this task. On 'easy' there are 13 slips provided, on 'medium' there are 19 and on 'hard' there are 24. Different or fewer hints are also given, depending on the difficulty level.
In solving this mystery, the children have to discover why Sarah visited. Was it because of religion? The desire to travel? Spending time with friends? Or visiting a friend? All reasons could be correct / valid – Which one do you think is correct?
During this mystery the children learn about:
the traditions of the Camino de Santiago as well as the modern journey which people make.
a region of Spain including some Spanish vocabulary.
some aspects of the geography of Spain.
They are introduced to modern pilgrimage which is built upon traditions from the past.